APK Editor Studio v1.1.0 Released
Android TV banners and round icons: what's new in the first APK Editor Studio update – v1.1.0.
Release
The first APK Editor Studio update (v1.1.0) is now available. It brings the support for the two new launcher icon types, code editor enhancements and other improvements.
What's New
Added round icons support
Round launcher icons were introduced in Android 7.1 Nougat. This type of icons is used among the many applications, and now APK Editor Studio is adding the support for these resources allowing you to edit, replace and save circular icons.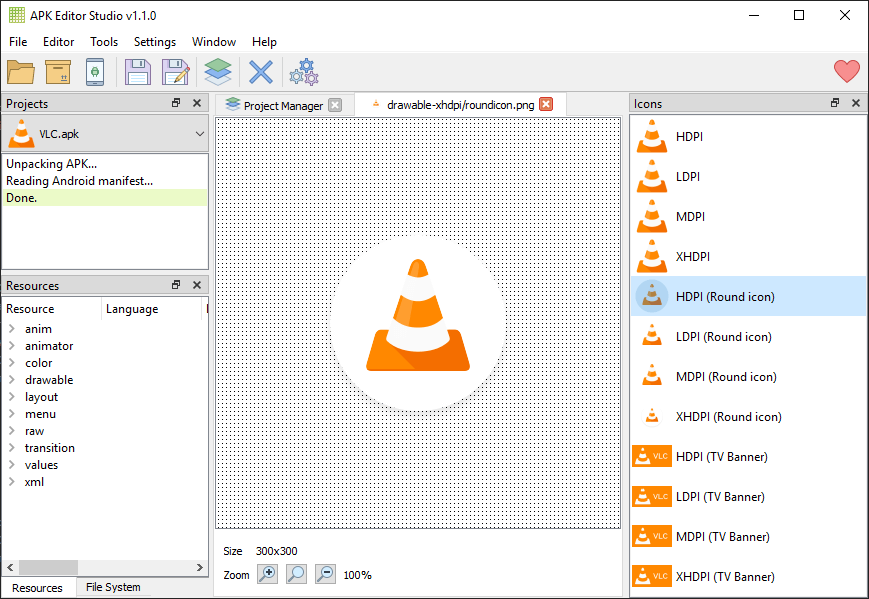 Applications for Android TV use separate images for leanback launcher called banners. These drawable resources are now supported in APK Editor Studio v1.1.0 along with the other application icons, so now you can change Android TV banners as simple as APK icons.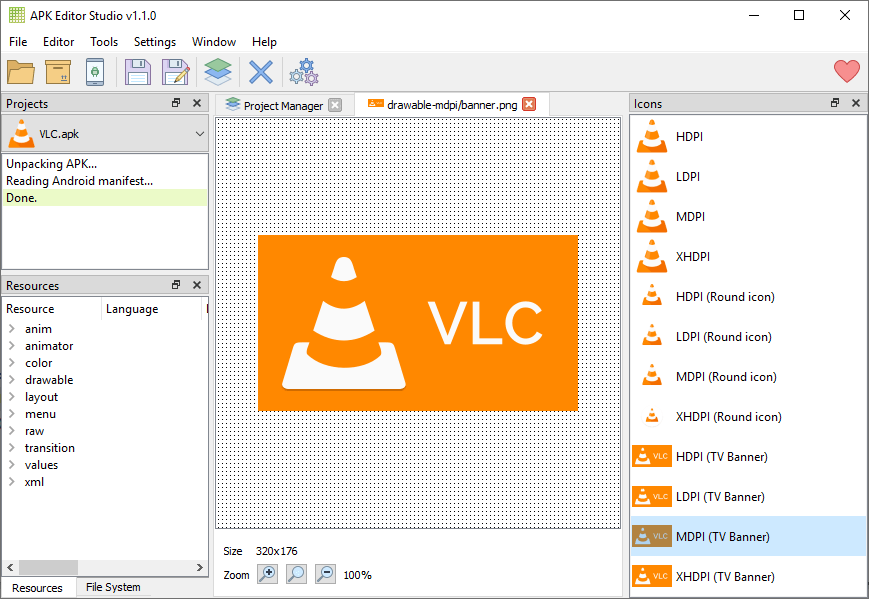 Added API selection dialog
All Android applications have the minimum SDK and target SDK values that help developers to properly deliver the set of required and optional features. Some people experiment with these values and API levels: for example, decreasing the minimum SDK may help with the launch of (unsupported) applications on older Android versions.
Previously, the minimum and target SDK version were displayed as simple numbers unfamiliar for non-developers. From now on, APK Editor Studio v1.1.0 displays them as human-readable Android versions (including the code names, such as Android 8.0 Oreo, Android 9.0 Pie, etc.) and brings the ability to change these values via intuitive dropdown dialog.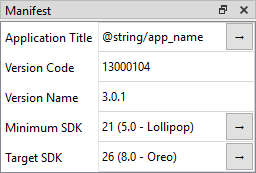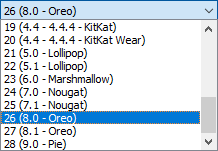 Added line numbers in code editor
Like any modern code-oriented text editing software, the internal code editor now shows the line numbers and highlights the current line. This makes the XML and YAML viewing and editing even easier.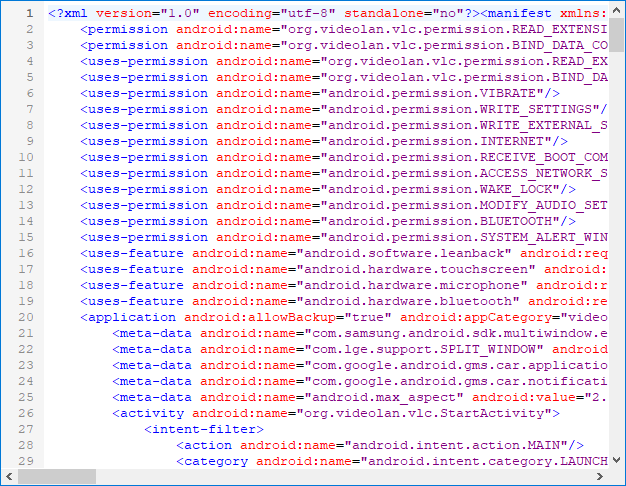 Other Changes
Added "What's New" in the update dialog.
Added "DPI" column to the resource inspector.
Added current line highlighting in the code editor.
Display uniform-sized thumbnails in the icon list.
Display system file icons for non-graphical thumbnails.
Display tab titles without a bulky GUID prefix.
Improved drag and drop from external sources.
Improved code editor "Unsaved" state after undo.
Improved minor GUI details.
Windows: Updated Qt to 5.12.2.
Windows: Compiled OpenSSL to match VC versions.
APK Editor Studio v1.0.0 Released
The first version of the new APK editor for PC & Mac went public.
Release
We are happy to announce the public launch of our new free APK editing tool, APK Editor Studio.
APK Editor Studio combines the ease of simple utilities and the power of IDE-like editors. It can be used to either quickly replace APK icon and title without any specific technical knowledge or create major APK mods by changing the internal resources, editing the reverse-engineered code and tweaking the Android manifest.
APK Editor Studio is a next-step project aimed at expanding the ideas from its predecessor, APK Icon Editor. Users of the latter can read this post containing the comparison of these tools in order to get an idea of feature highlights and key differences.
This software is totally free, open source and is available for all major platforms:
Windows (7 – 10)
macOS (10.7 – 10.14)
Linux
Features
Icon Editor
APK Editor Studio automatically detects the corresponding APK resources letting you to easily change Android app icon. It supports Android qualifiers (e.g. different DPI values) and automatic conversion between the numerous image formats (see the "Image Editor" section).
Title Editor
APK Editor Studio also automatically parses the proper string resources, which makes it really easy to change Android app title. Multilingual interfaces are supported: you can change application title for different locales and other qualifiers.
Image Editor
Internal image viewer/editor supports PNG, SVG, JPEG, BMP, ICO, GIF, WebP, ICNS, TIFF, TGA and many other image formats. APK Editor Studio provides automatic behind-the-scenes conversion between them so there is no need to waste your time converting your image to the needed format using third-party software and external editors.
Code Editor
You can quickly edit XML and YAML files in the internal code editor. Syntax highlighting support for other formats is also planned. You can become a contributor (check out our project at GitHub) and write one by yourself following the Qt QSyntaxHighlighter docs and the APK Editor Studio XML highlighter example.
Resource Inspector
Besides the file browser for APK contents, APK Editor Studio also includes intelligent resource inspector which automatically categorizes Android resources by type and qualifiers. This makes it really easy to browse through them, edit, replace, export, etc.
Project Manager
For those who doesn't want to dive deeply into all the advanced features for APK modding, the project hub provides a quick access to the most used and relevant functions, letting users to reach the needed actions just in one click:
Edit Android application icon
Edit Android application title
Explore APK contents
Install APK on device
Manifest Editor
Instead of manually editing the Android manifest XML file, users can change the most important and crucial application properties quickly and easily using APK Editor Studio:
Change version code
Change version name
Change minimum API level
Change target API level
More manifest parameters are planned for future releases.
APK Installer
The inbuilt APK installer and device manager are really handy when it comes to instant APK installation. No need to manually copy the resulting APK on your device and install in from there: applications can be installed on the connected Android devices just in a couple of clicks.
APK Signer
APK Editor Studio automatically signs APK using the standard Android apksigner tool. The pre-created key is provided by default to make the repacking process as smooth as possible, without having to set up anything. However, users can also provide their own existing keys or even create one right from the APK Editor Studio using the internal key manager.
Saved passwords are encrypted using the native platform-specific methods.
APK Optimizer
Additional APK optimization is performed through the standard Android zipalign tool which is executed after the APK is packed. This improves the Android application stability and reduces the RAM usage.
Community
APK Editor Studio is a totally free and open source software licensed under GNU GPL v3. You can support this project:
Download APK Editor Studio